The Race Around Rwanda was the most extreme event of my life. I don't know if anything else will ever be able to surpass this level of strain, particularly mental strain... It was madness, which I will try to describe to you in a few posts, day by day.
Why Rwanda? Well... I thought that Rwanda would be a great opportunity to start my gravel adventure... Well... I couldn't have been more wrong... Everything looks beautiful in the organizers' pictures, the gravel sections are like a dream come true... But the reality here crushes even the best athletes...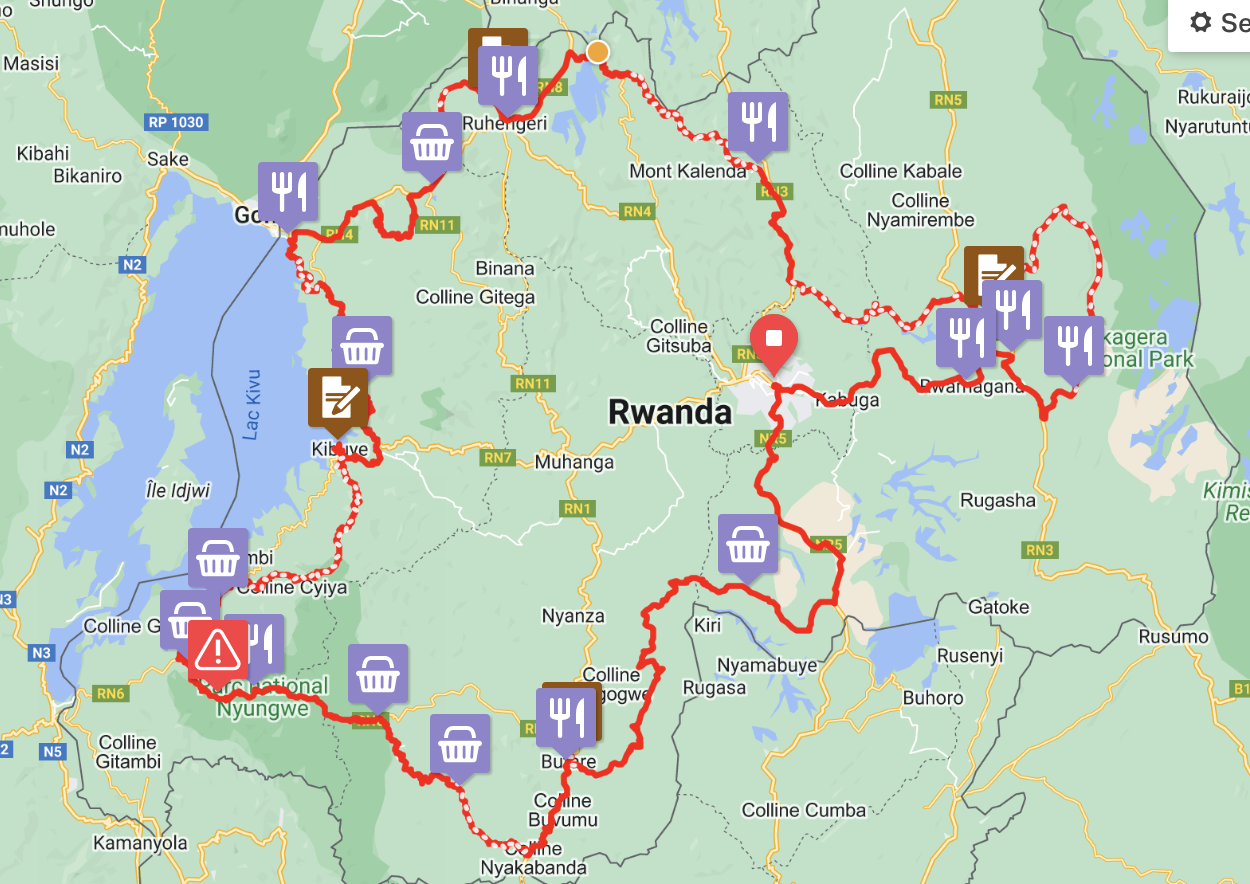 We started in the capital of Rwanda, Kigali, right after breakfast prepared by the organizers, at 4am. The capital of Rwanda is located at an altitude of 1300 meters above sea level, and I have the impression that it was the lowest point on the entire route. It is an incredibly busy and noisy city, so starting in the early hours of the morning with police assistance was a great idea.
You also have to take into account that this country is located close to the equator, which means that it is only bright for about 12 hours here and the sun sets very quickly... By 6:30 pm it is already quite dark and not at all warm. It starts to get light around 5:30 am...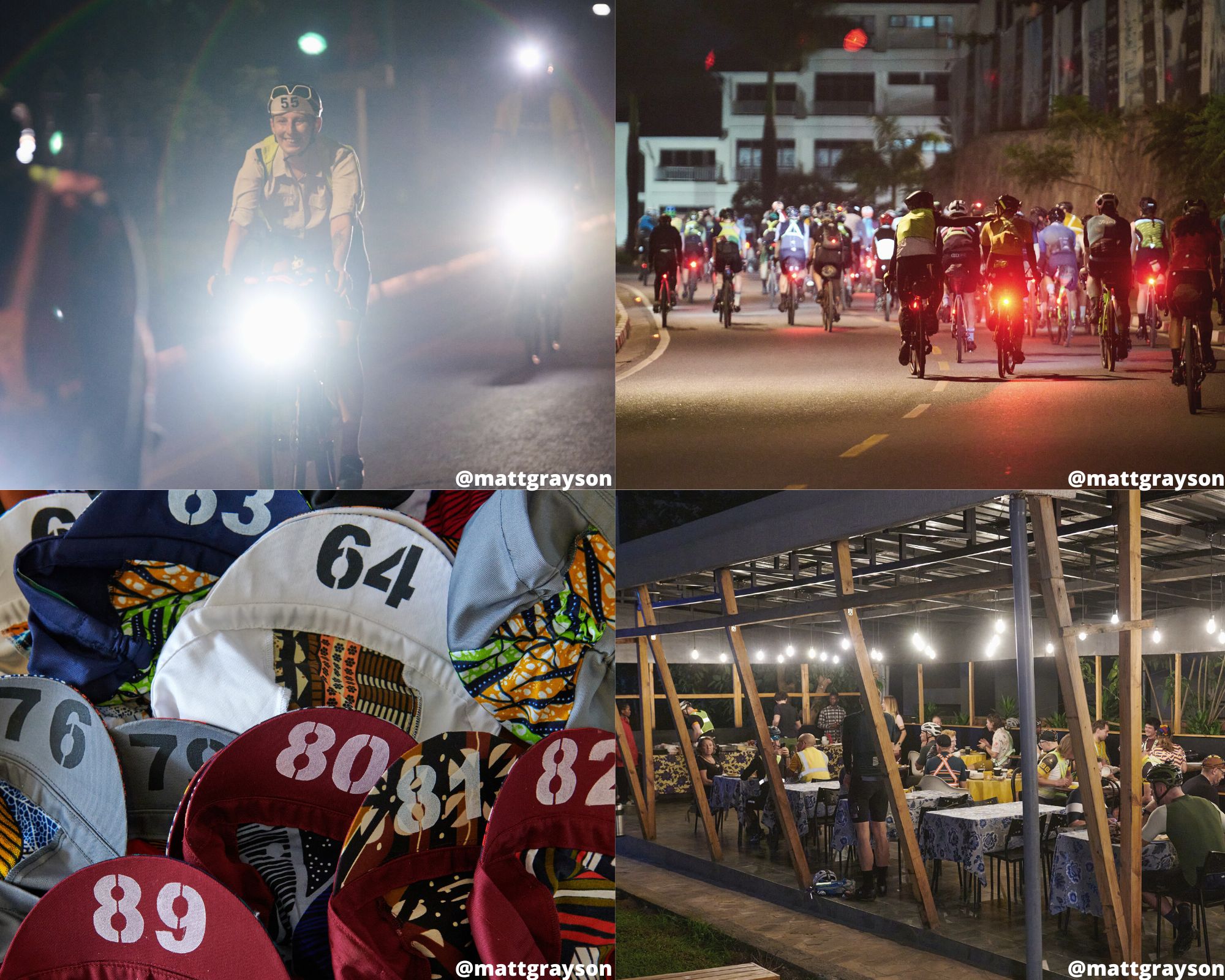 On ultra, I have one rule. I don't push myself too hard. I ride at my own pace, which means I always fall behind at the beginning. I like it because it quickly removes the competitive element from my mind. I simply enjoy riding alone. This race was meant to be a test of my abilities after a long break. I had only been preparing for it for 3 months. My goal was simply to finish, which, as it turned out, was not one of the easiest tasks along the way...
For the first 100 km, I rode on a beautiful asphalt road. If you ever come across asphalt in this country, its quality will amaze you - Rwanda, apart from some sections with chaotic traffic around cities, is a dream for every road cyclist! I'm not surprised that the Road World Championships in 2025 will be held here.
At five in the morning, I rode out of Kigali and... the first shock... A SEA OF BIKES! People on bikes themselves: without lights, loaded to the brim with merchandise - bananas, tires, bags of coffee, tea, basically everything that comes to mind. They often push these bikes uphill in pairs. This was a picture that accompanied me until the end. Here, everything is transported by bike. Not the ones we know from our competitions, mind you. These are old, rickety machines with single speeds, no gears, and rusted chains. Moreover, these boys on bikes could easily pass all of us. XD The stamina of this nation is astounding... I believe this is where true talent can be found. It's unbelievable! However, there is chaos here like hell, and when passing through Rwandan towns, you have to keep your eyes peeled... it's not easy.
However, women on bikes are nowhere to be found here. Throughout the 1000 km, I met only a few girls riding bikes to school in the immediate vicinity of the capital. It turns out that 98% of women in this country have never ridden a bike... Women here... walk... They slowly move along the roads, transporting everything on their... heads. I tried to learn this after the race, but I think I'm talentless in this regard. ;)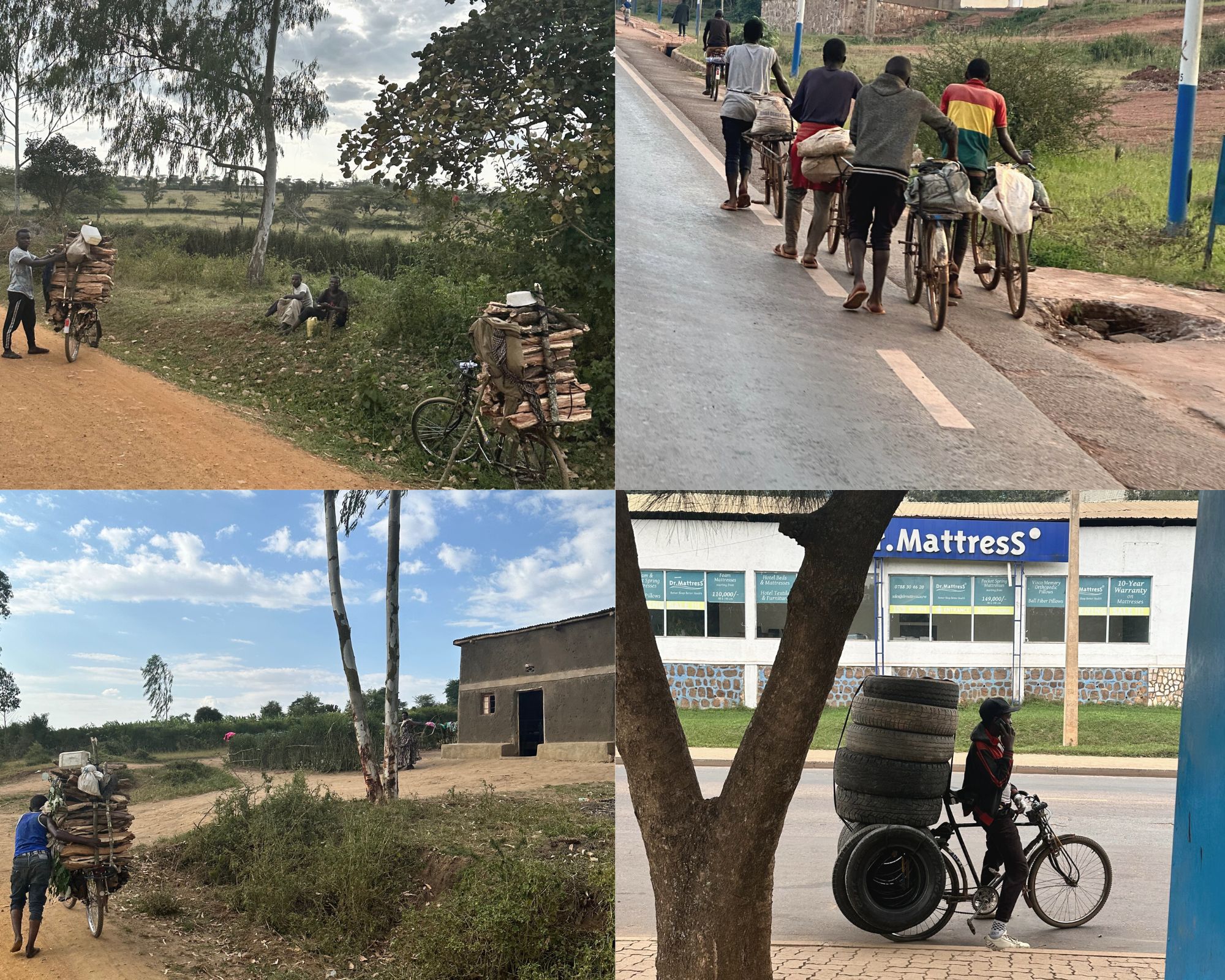 The first 100 km on the road were great... Not too hot, not too cold... Beautiful views started to appear at dawn. Rwanda is very, very green! It's such a beautiful, grassy green, a bit like the one in the Austrian Alps. However, after about 90 km, something happened that made some of the riders unable to finish the race, and it wasn't just the difficulty of the course (although that's also really tough). It was the first villages we passed through at dawn, when Rwandan children wake up... and the mental nightmare began.
It's hard to describe what happens here all day when you're alone on a bike as a muzungu (white person), but I'll try to explain these feelings to you.
To do this, we need to clarify a few things. Rwanda has a population density of 452 people per square kilometer. For comparison, in Poland it's 123 people per square kilometer. This means that in this country, you have no chance of being alone even for a moment. During the day (5-24), you won't find a single such place. People are everywhere. Most of them are in villages, but you'll also encounter them on the road. They mainly travel on foot, by bike, and in the wealthier parts of the country, by motorcycle. It's an absolute truth that you simply can't pee in peace here. Nowhere. I tried. I thought I had finally found the right place in the forest, took off my pants, and... suddenly there were 5 people next to me. XD
But that wasn't the worst part. :)
You can curse me in every possible way, I leave political correctness behind at this point, but the worst in Rwanda are the children... ;) Anyone who has started in this race will agree with me. Some riders simply gave up riding further because of the shouting, touching, and constant noise. Imagine the situation... You're riding a bike and you're really exhausted, and there are people around you all the time, for whom you are a village attraction. Children come at you from every house in numbers that are simply unheard of, sometimes running after you for several kilometers. They keep shouting: good morning (regardless of the time of day), muzungu, give me money, what's my/your name... As you can see, the range of these shouts is very limited, and you have to endure it almost non-stop day after day. The ride to the next village becomes more and more exhausting, until finally you start blurting out swear words in your native language. No explanation in your head makes a difference, that it's not their fault... You're just fed up... Incredibly fed up. For me, it was an additional burden because I have tattoos... And that's a real hit... Everyone wants to touch them... A few times, I barely avoided falling because of it...
That's how my first almost 100 km of gravel started for me. Nevertheless, after a dozen or so villages, I got a little breathing space. We were riding along the Akagera Park. In this part, it really was the most beautiful gravel road I've ever seen. A dream come true... Wide, gravelly, wonderful road in the color of African soil. Like in a movie! I thought it was the most beautiful race of my life... Well... The next sections started to painfully kill that feeling...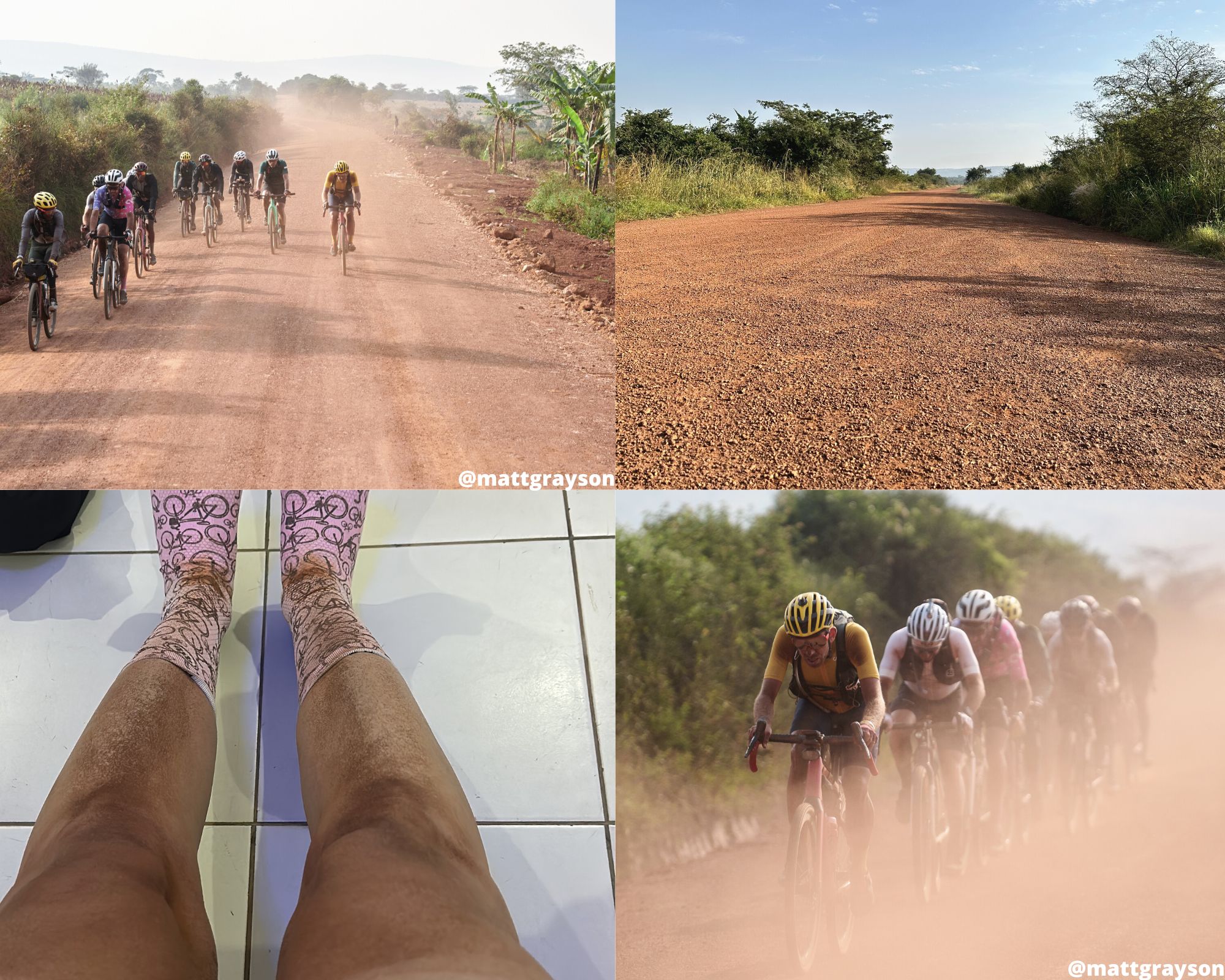 Right after the first gravel stage, I found myself at CP1 by the stunning Muhazi Lake. It was there that I realized just how green and fertile the Rwandan soil is. I enjoyed a pleasant half-hour break and picked up my first trophy: an elephant keychain that made it with me to the finish line, attached to my bike saddle. Then, after a short road trip with the people who were always with me, I hit the second gravel section that stretched along the beautiful lake. I arrived there at sunset, and a sunset in Central Africa is simply something you have to see... No photo can capture what happens there with the light... It's also incredibly fleeting, lasting only 10-15 minutes... Then the Egyptian darkness falls.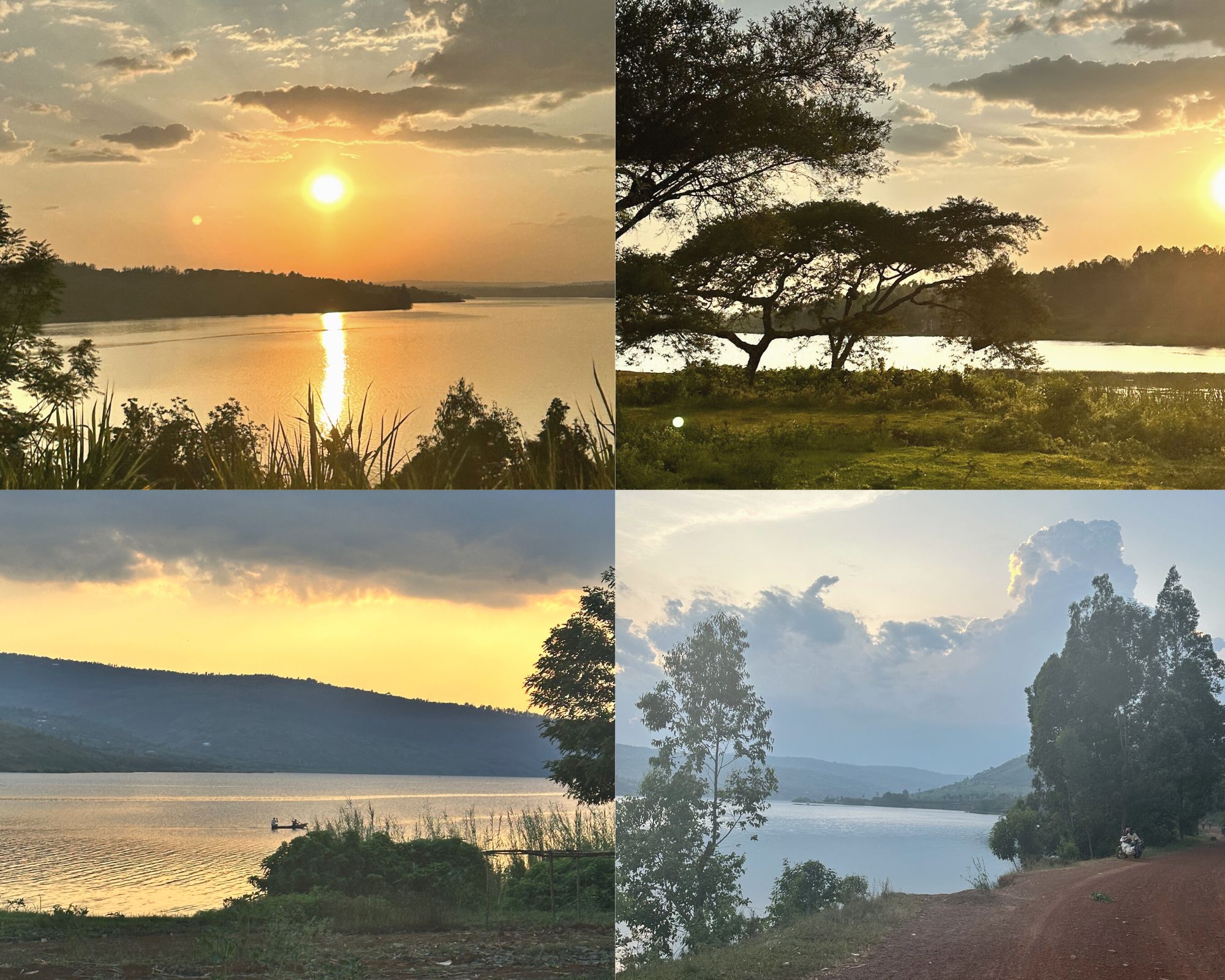 The gravel section at Lake Muhazi started innocently enough, but quickly showed what this race would soon become for me. The beautiful gravel road began to turn into single tracks, and the first classic Rwandan bridges appeared, which even the organizers don't recommend riding over. They appear out of nowhere at night, so the option of riding fast simply doesn't exist... It would be a feat for anyone who attempts to ride a bike across them, especially after a heavy rain...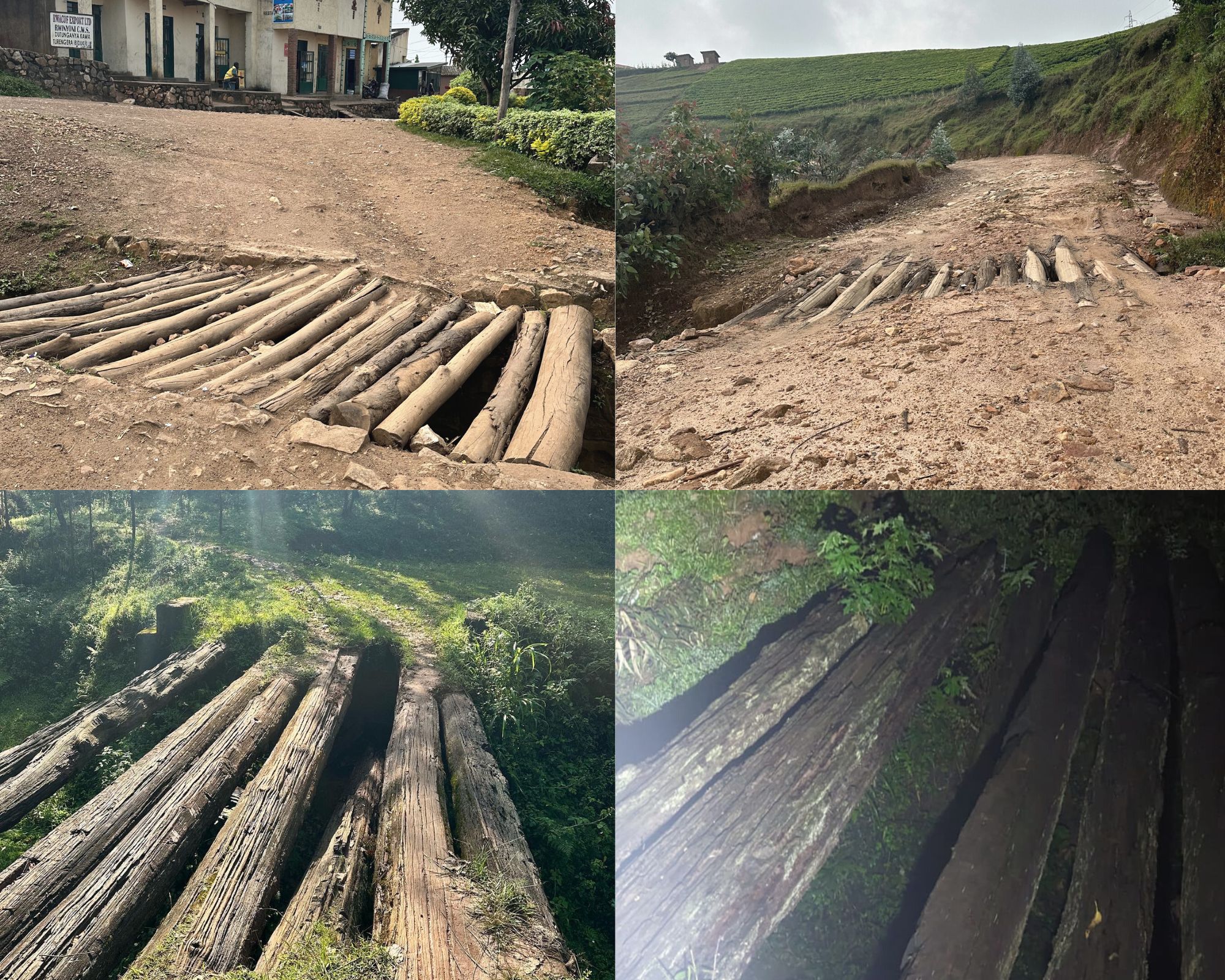 This time, the distance was "only" 35 km, but I found myself struggling relentlessly in complete darkness. To make matters worse, children kept appearing from behind every bush, painting a vivid picture of the challenging situation.
After what felt like an eternity, I finally reached asphalt. However, my bike was already creaking, and the African sand seemed to have made itself at home everywhere. I took a sip of my Coke (fun fact: don't expect anything cold from the fridge), and pushed forward.
Around 9:00 p.m., I began my first grueling climb of the race. In the distance, I could see the magnificent dams, signaling that I was passing through some breathtaking terrain. Sadly, I couldn't see much due to the darkness, and the drunken people who kept bothering me made the situation even worse. I made the decision to take a rest at the 274 km mark, before the next long stretch of off-road terrain.
It was then that it hit me that I came to Rwanda to see its beauty. In the mountains, in the town of Byumba, which sits at an altitude of 2200 meters, I decided to stop and rest for four hours before continuing my journey. The following day, I realized fully that this would be far from a leisurely ride in the park...